Evan did a wonderful thing and invited a lot of people to have a get away weekend in Cape Breton. Lots of fun, lots of people, and lots of good times. To compound the fun Danny and I rode our motorcycles up to the event.
With the weather being as it was (read miserable), Danny and I decided to bike up early Saturday morning rather than Friday night when most other folks were driving up. I felt guilty for asking Brittany to come and then not being able to drive her up so she and two of her friends drove up in a Rental Friday night.
When Danny and I got there a lot of people were still sleeping and generally recovering from Friday nights events. Saturday morning was a pretty strait forward ride along the Trans Canada and then onto the old number 4 in south eastern Cape Breton.
Paintball, fireworks, drinks, games and mini bikes were the order of Saturday.
Sunday Danny and headed around the Cabot trail and then home. We ended up riding a total of 1190 Kms on Saturday and Sunday. But getting to ride the Cabot Trail is really unbelievable, especially since we were pretty much the only people doing the loop.
It rained for the bulk of our Sunday riding, which was of particular concern for me as I have never ridden a motorcycle in the rain before.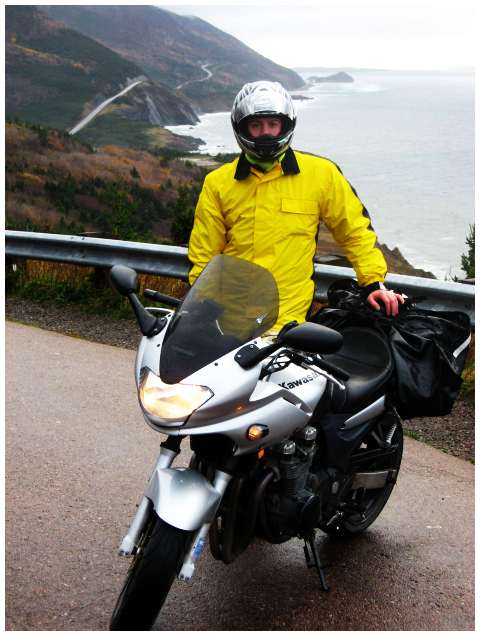 I am now really looking forward to doing some touring of Nova Scotia with Brittany. I've lived here in Nova Scotia most of my life, and have seen most of the scenery at least once, but I'm still blown away when on the bike traveling through the coastal regions of Nova Scotia.