In only a week's time, we have settled into a relaxing and enjoyable routine. A fellow traveller we met at poolside was amazed that we had decided to spend two months here. "What will you do for two months?" he inquired. "As little as possible," we replied and so far we have been successful in this goal.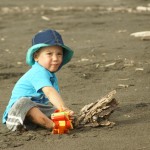 Our day usually begins at about 5:30 am with Gabriel's awakening. Funny thing is that we are all ready to get up at that time as well. (This could be because we usually go to bed at about 8:00 pm!) We make a pot of coffee and greet the rising sun on our deck overlooking the ocean. A walk on the beach before breakfast sets the tone for the day. Sometimes the surfers are already in the ocean early in the morning waiting for the perfect wave. On other days, we are the only people on the beach. Gabriel stays away from the ocean. Actually, we all do because the surf is so strong. I think that in time we will venture in and maybe even do some body surfing.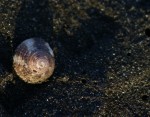 Gabriel has discovered hermit crabs and we spend lots of time coaxing them out of their shells. We haven't found many shells but are making a nice collection of beautiful turquoise coloured stones.
We have met some very friendly people here at the bungalows. Our neighbor who has been living here  with his wife and two young children for the past nine years is an avid surfer. His wife is a yoga instructor and has taken Brittany to a mountain yoga retreat for a class. They have a three year old and a one year old and lots of toys. Now and then Gabriel goes over and plays with the boys and their toys however he is becoming very good at just playing with small things he finds.

Our days are spent swimming in the pool, taking turns in the hammock on the deck, reading, playing with Gabriel and Oliver and just simply enjoying the beauty of our surroundings, the sound of the pounding surf and appreciating not having a care in the world.
We have found a wonderful grocery store in Jaco which is about 10 minutes away. Brittany wisely made up a menu for a week and we purchased the groceries we needed so we don't need to make too many trips to town. As we have no transportation, we rely on our hosts Twinka and Alexandra who generously drive us to town when we need supplies.
We are looking into some adventure possibilities. There are so many amazing sites to see and we have the luxury of taking our time to make travel plans. We have a list of places to see and will soon start venturing out to explore this scenic country.