Red Bull Blast from the Past 70's Style Surf Competition – Hermosa Beach Costa Rica
Today I headed down to a Red Bull 70s Style Surf Competition here in Hermosa Beach Costa Rica. I was there for 6 AM and the event was setup, but the heats didn't start until about 7AM. There were a number of photographers, pro and amateur all shooting the event including two in water photographers. I used google translate on the Spanish event page and have pasted it in the quote below. The surfers would go out initially on longboards, then on fish boards and then on guns. At each 10 minute mark of the 30 minutes the Red Bull girls would run the different board down to the water and the surfers in the heat would exchange boards.
The rest of the family came down at around 7:30AM at which point I was happy to join them for a Tico breakfast (a traditional Costa Rican breakfast).
Any of the shots where the guys are not surfing on a Red Bull branded board were warming up prior to their heat or in between. Click on any of the images on this page and then use your keyboard arrows to have a full screen viewing.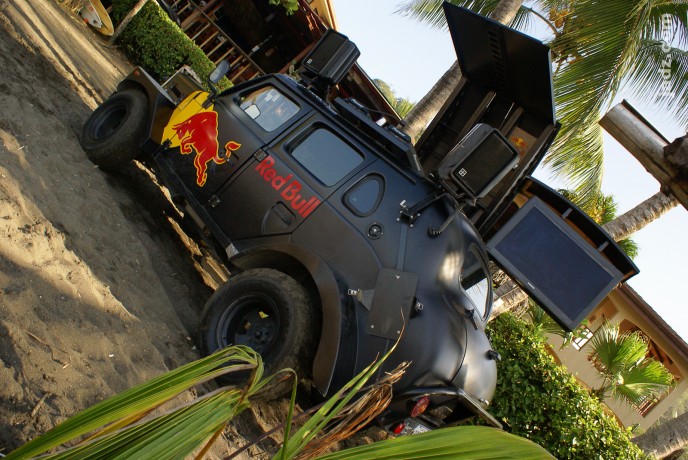 The photo below shows all three styles of boards in use at the competition.
On Saturday January 28 from 6am Playa Hermosa, Jaco will be transported to the early 70's in the event Red Bull Blast from the Past, where the heads of the scene of the surf in Costa Rica run waves on boards of the old school. The final will start at 3pm and evening Backyard will transform into a beach party at the time with a concert by The Knife.

"Surfing has evolved and today the tables have marked improvements and drastic changes. This is an excellent opportunity for national surfing, as the junior will be able to compete against experienced masters, mixing boards of several generations, "shared Diego Naranjo, several times national champion.

The participants of Red Bull Blast from the Past will compete in heats of 30 minutes, alternating between three types of tables: fish, guns and longboards, every ten minutes respectively. A total of 18 surfers played in the particular jurisdiction, and judges will consider several ways to qualify, including the style of 70's of participants and the best wave.

Known representatives of the national surfing scene will be part of the jury, including the pioneers of this sport in our country: Marco Pacheco, Mario Bonilla and Mario Estrada. Jean Pierre addition Artavia Loria and Kali Surf Federation.

The concert will begin at dusk Knives and spectators should dress in the fashion of the 1970's to enjoy the party.