A Montezuma Adventure
Ward and I have just returned from a little adventure. We decided that it was time to explore another part of Costa Rica so we rented a car and set off for the Nicoya Peninsula. We chose this as our destination because we had heard about a small town named Montezuma and were curious to see it and the Peninsula on which it is situated.
The easiest way to get to the Nicoya Peninsula is to take the ferry at Puntarenas. It leaves about every two hours and we were advised to be there about 1.5 hours in advance as the waiting line can be quite long. We left Jaco at about 9:30 and drove leisurely knowing that we would never make the 11 am crossing. Yet, by about 10:50 we found ourselves in Puntarenas and decided to try to find the ferry dock. In Costa Rica there are very few road signs and we had not seen any for the ferry so we just drove randomly in the hopes of eventually landing at the dock. What a surprise to turn a corner and find the ferry ready to leave. The attendant hustled Ward to the ticket booth and we drove on board just as the horn blew and the gates closed behind us. The crossing was beautiful and the ferry was new and well-equipped. It was a lovely 70 minute crossing.
The only glitch was that we neglected to find out where this ferry was headed so we were happy when we asked someone on board where the ferry was going and found out that it was going to the same place as we wanted to go! We landed in Paquera and started the drive along the coast to Montezuma. Most of the road was paved but the last section was unpaved and rough. Apparently many of the secondary roads in the country are dirt and very rugged. We found our hotel, "The Three Monkeys", checked in and had a refreshing swim in the pool.
Montezuma is a town that seems to have stopped its evolution in the 60s. It is full of backpackers, buskers, hippies and hustlers selling handmade jewelry. It is a one-street, dusty town in which no one seems to be in a hurry. I would have enjoyed more it about 40 years ago and Ward says that he skipped this phase altogether and it is too late to try it out now. We did have a lovely dinner at a restaurant run by Europeans and as per our schedule, we were in bed by 7:30!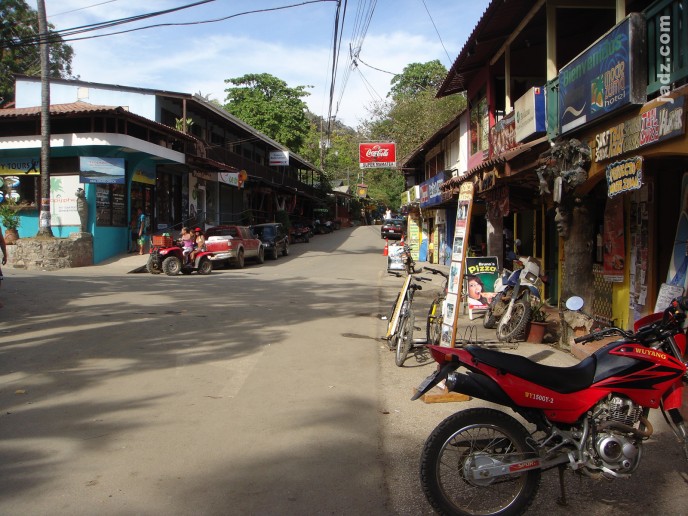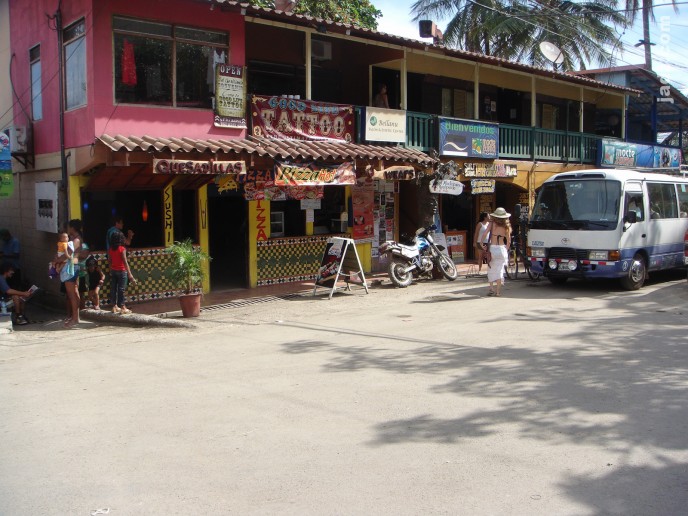 The plan for the next day was to hike through the national park nearby, however we learned that it is closed on Mondays. So… to avoid the potential long line waiting for the ferry back, we decided to drive north and follow the coastal road around the Peninsula back home. We hoped to find a nice quiet town along the way and stay for the night. However, after leaving Montezuma and driving north, we found ourselves on a dirt road far rougher than the one we drove on the day before and Ward decided after a few kilometers that he could not drive on roads like this for the next several hours. So, we turned around and headed for the ferry. We did not know the schedule but were willing to take a chance. Once again, Lady Luck was on our side. We drove up and this time we were the second last car on board without a moment's waiting.
We arrived in Puntanaras without a plan and just picked a town on the coast as our destination. How were we to know that the road leading in would end at a barb wire gate entrance to a huge container port. We turned around and agreed that it would be nice to be "home" again.
This experience helped us appreciate the beauty of Playa Hermosa and the good fortune we had in discovering the Hermosa Beach Bungalows.