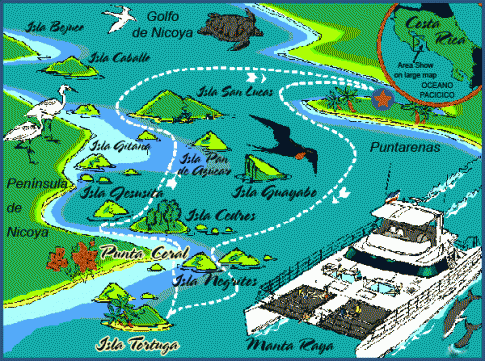 On Tuesday & Wednesday of this past week, we took turns venturing to Tortuga Island on a Calypso Cruise. The day started off with a 6:50a.m. pick-up at out bungalow and a drive to Puntarenas a port town an hour and half north of Jaco. Puntarenas (Pointsands, from "punta arenas", or "sand point" in Spanish) is the capital and largest city in the province Puntarenas, Costa Rica, at the Pacific coast. Once we arrived at the dock, we enjoyed a typical Tico breakfast of gallo pinto, ranchero eggs, corn tortillas, sour cream, fruit and coffee at El Shrimp.
We embarked upon Manta Raya, our catamaran and began our almost two hour long voyage down through of Gulf of Nicoya to our destination of Tortuga Island. Isla Tortuga is Costa Rica's most visited island. It consists of 2 islands, one of which is a Wildlife Refuge. The island used to not be privately owned and as a result, was near ruin until it was bought and made private. Tourists are now only able to remain on the beach, no overnight stays are allowed and nothing is allowed to be taken off the island. Now an uninhabited island, the clear turquoise waters afford excellent snorkelling and diving, and the white sand beaches lined with swaying palm trees provide the most sought-after setting in the world: a tropical island paradise.

Once on the island, Joe and Ward  enjoyed a Banana Boat ride, snorkelling, and jet skiing.Brittany took care of a cooperative Oliver who slept in his seat while she read.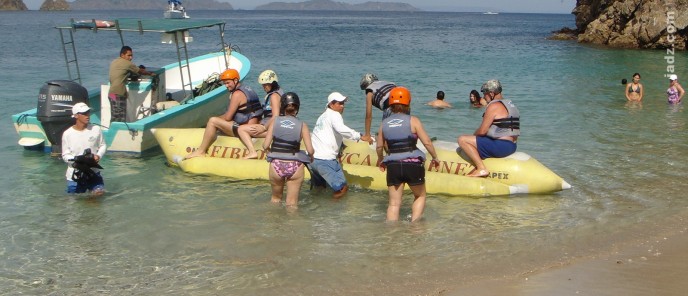 A delicious lunch of ceviche, coconut chicken, veggies and wine was enjoyed under parachute umbrellas while a very friendly agouti wandered around asking for any leftovers. *Ceviche is a local delicacy. The dish is typically made from fresh raw fish marinated in citrus juices such as lemon or lime and spiced with chilli peppers. (The agouti is a wild pig-like animal – very friendly.)
We took a different route home from the island and learned quite a bit about the history of seven Nicoyan islands; mainly San Lucas Island. Formerly serving as an island prison, it is now a National Park. Indigenous groups lived on San Lucas and the surrounding islands. There are eight known archeological sites on the island, including apparent houses where stone tools and a metal object were found in the late 1970s. The excavation sites date to between 1,000 and 1,500 AD.
From 1873 to 1991, San Lucas Island was a penal island for some of the worst criminals in Costa Rica. It is often erroneously cited as the largest prison in Costa Rican history. It was founded by the dictator Tomas Miguel Guardia Gutierrez. Being sent to San Lucas Island was a terrible prospect as prisoners lives were short and often spent in torture.
The former buildings of the penal island are considered "Patrimonio de Cultura," or cultural heritage sites. The buildings include a historic dock, a church, a medical building, temporary holding cells, a three story main office, a large concrete disc used to hold a water tank, and water pumps. In addition, there are prison cells of varying security levels depending on the prisoners' crimes. José León Sánchez, a prisoner of the island, wrote "La Isla de Hombres Solos," translated into English as "The Island of Lonely Men," (a New York Times bestseller) based on his time in the prison at San Lucas Island. León claimed that he was unjustly imprisoned for a robbery that he did not commit.
Prisons and torture aside, we all had a lovely and relaxing day. The captain of the ship told us "please do not take any sea shells or coral home with you, bring only your memories back in the hopes that this island will also be enjoyed in the future by your grandchildren."
As we headed back to port, we could see the cane fields which were illegally being burnt in order to rid the fields of snakes prior to the harvest.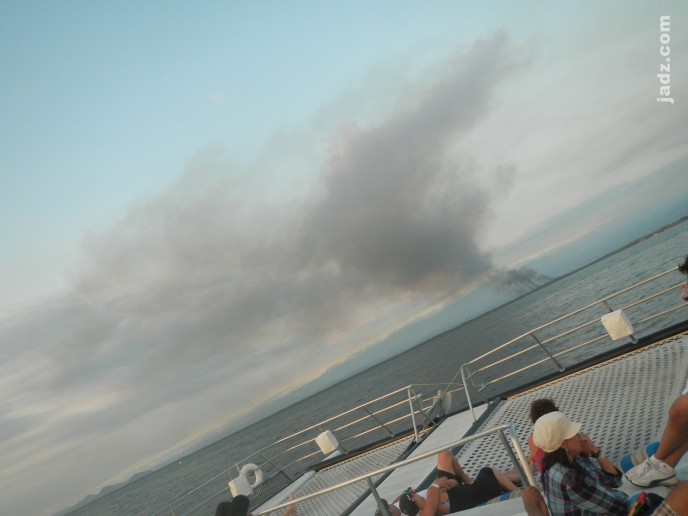 Please take some time to look through the rest of the photos below by clicking on the first one and then using your arrow keys to view them.